We are the financial choice that suits you
Finance is our strong point. Hence, we have spent years helping customers like you to understand when is the best moment to request a loan, what to do to obtain the best mortgage and much more. Without beating about the bush, without complications, without leaving your home.
Begin to use gibobs
We look after your financial health
Register on our platform free and begin to take control of your financial situation. You have a series of services available to you that will make your life easier and allow you to know which financial decisions to take in line with your personal circumstances. And remember: at gibobs, you decide what services interest you.
My personal balance
My loans
gibobs scoring
My documents
Financial products
My personal balance
Begin to take control of the real updated value of your wealth, solvency and liquidity to take the best financial decisions.
More information
My loans
Easily verify the status of the products you have taken out, compare your conditions with the market average and receive personalised recommendations to improve them.
More information
gibobs scoring
Find out your personal credit scoring, that is, your financial health and check how it is progressing.
More information
My documents
Organise and store all your financial documentation in your client area in a safe confidential manner and access it at any time and anywhere.
More information
Financial products
Whatever your bank, we will help you to find a mortgage that is made to measure. If you already have a mortgage, we will improve your interest rate, but always giving you personalised recommendations to manage your finances. Use our mortgage simulator and discover your mortgage's viability. Furthermore, we will help you find a mortgage that is made to measure, or to improve your interest rate, offering you you personalised recommendations to manage your finances.
More information
We are mortgage experts
One of the aspects that helps to improve your financial health is to find a mortgage that has the best market conditions. And this is what we know how to do best! We have spent years negotiating with banks, but this has only just begun: we have set the objective of helping people like you find the home of their dreams.
You will be happy with your mortgage
Muy contento con el trato y la rapidez , es muy facil subir la documentación y en seguida te mandan ofertas muy interesantes sin moverte de casa.
Francisco Lopez Parra
2022-05-15
Antonio me lo puso muy fácil. Gran gestión y mejor profesional. Totalmente recomendable
Carmen Parrón Murillo
2022-05-13
Muy contenta, ha estado muy atenta a todas mis necesidades y no ha parado hasta conseguirlo Muchisimas gracias
miguel angel consuelo
2022-05-13
Excelente atención, gestión y seguimiento de las operaciones hipotecarias. He recibido asesoramiento desde el primer momento y a lo largo del proceso. Muy fácil toda la operativa. Mención especial para Catalina, que ha tenido un trato exquisito con nosotros.
ezequiel distasio
2022-05-12
No puedo estar mas agradecido y encantado con la atención recibida por Gibobs y especialmente por Maria Diaz. Plantee la operación previamente en otro portal en el que encima me cobraban y Maria habiendo empezado 15 días despues, y sin cobrarme nada, me resolvió todo antes que el otro portal, e incluso me consiguio mejor propuesta. Ha estado atenta en todo momento a la evolución de la operación, y me ha aguantado los nervios que esto provoca en la situación en la que estamos. Muchas Gracias a Maria Diaz y a Gibobs.
maria sol fernandez
2022-05-10
Me suscribí en su web y una agente (María) me llamó para asesorarme de forma gratuita. Fue muy amable conmigo y me dio información muy valiosa de manera desinteresada. Los recomiendo al 100%!
Annalaura Mastrangelo
2022-05-10
Súper recomendable!! Nos ha asesorado Jorge en una hipoteca que ha resultado ser más complicada de lo esperado. El servicio ofrecido ha sido súper atento y amable. Ha conseguido una condiciones inmejorable para nuestra hipoteca.
Acabo de firmar una hipoteca con Gibobs, puedo afirmar que he conseguido lo que quería. Realmente no soy capaz de encontrar nada negativo en la gestión de Gibobs, fue un proceso largo, pero siempre conté con ayuda. Trato amable, cordial, humano y, cuando fue necesario, con paciencia y sin prisas. Nunca me sentí presionado, siempre hubo opciones, nunca me pidieron dinero antes de tiempo ni para otra cosa que no fuera conseguir la hipoteca. Aunque con la presencia de Gibobs, el banco trató conmigo, lo cual me ofreció transparencia y confianza. Sinceramente, creo que sin Gibobs no habría conseguido las mismas condiciones o me habría desesperado a mitad del proceso. Así que no puedo otra cosa que estar agradecido, en especial con Elena Bravo, quién me atendió en todo el proceso. Lo recomiendo especialmente para quienes, como yo, con el trabajo y la familia, no les queda mucho tiempo para más. Sólo por nombrar algo mejorable, la app no funciona muy bien, aunque al menos en mi caso no supuso ningún problema, ya que el trato siempre fue muy personal, a través del teléfono o del e-mail. Gracias Gibobs.
A network of professionals at your disposal
We work together with a wide variety of prestigious companies in the financial and real estate sectors, allowing us to offer you a quality service and obtain the best conditions for your financial products.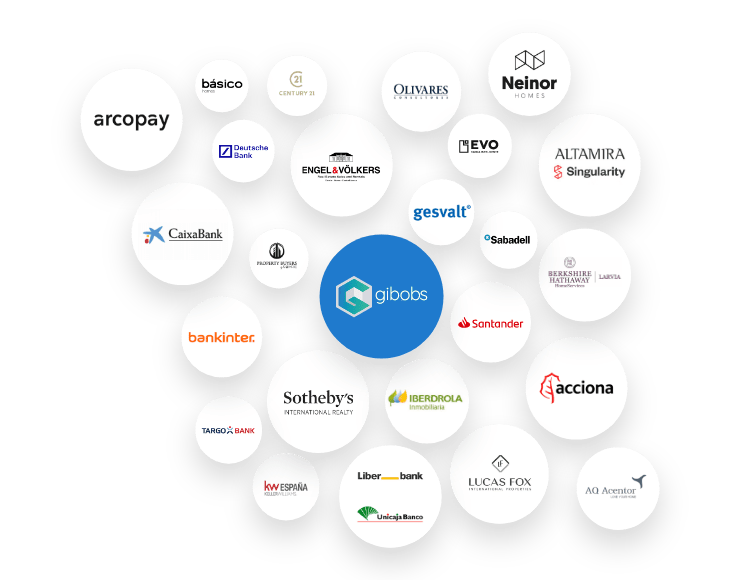 For real estate companies or developers
Do you want your customers to obtain financing in the best conditions so that they can buy the perfect property quickly and securely?