We are the financial choice that suits you
Finance is our strong point. Hence, we have spent years helping customers like you to understand when is the best moment to request a loan, what to do to obtain the best mortgage and much more. Without beating about the bush, without complications, without leaving your home.
Begin to use gibobs
We look after your financial health
Register on our platform free and begin to take control of your financial situation. You have a series of services available to you that will make your life easier and allow you to know which financial decisions to take in line with your personal circumstances. And remember: at gibobs, you decide what services interest you.
My personal balance
My loans
gibobs scoring
My documents
Financial products
My personal balance
Begin to take control of the real updated value of your wealth, solvency and liquidity to take the best financial decisions.
More information
My loans
Easily verify the status of the products you have taken out, compare your conditions with the market average and receive personalised recommendations to improve them.
More information
gibobs scoring
Find out your personal credit scoring, that is, your financial health and check how it is progressing.
More information
My documents
Organise and store all your financial documentation in your client area in a safe confidential manner and access it at any time and anywhere.
More information
Financial products
Whatever your bank, we will help you to find a mortgage that is made to measure. If you already have a mortgage, we will improve your interest rate, but always giving you personalised recommendations to manage your finances. Use our mortgage simulator and discover your mortgage's viability. Furthermore, we will help you find a mortgage that is made to measure, or to improve your interest rate, offering you you personalised recommendations to manage your finances.
More information
We are mortgage experts
One of the aspects that helps to improve your financial health is to find a mortgage that has the best market conditions. And this is what we know how to do best! We have spent years negotiating with banks, but this has only just begun: we have set the objective of helping people like you find the home of their dreams.
You will be happy with your mortgage
Sin dudas les recomiendo, y más si tienes la Suerte de tratar con Guillermina, una atención totalmente personalizada y transparente. Gracias
Ada me ha acompañado en todo el proceso dando diferentes opciones y sugerencias. Muy recomendable ya que con un solo interlocutor, accedes a todas las mejores ofertas del mercado con diferentes bancos. Gracias!
Carlos Royo Morón
2022-09-07
Antonio Molina, el gestor de Gibobs se ha mostrado en todo momento cercano, apoyando en todos los detalles de la operación y asesorando en aquellas hipotecas que me ofrecían mejores condiciones. Además ha sido un excelente intermediario entre la parte vendedora, el banco y me ha facilitado mucho toda la operación. Lo recomiendo al 100%.
Laura Valenciano
2022-09-05
Trato muy cercano por parte de Jorge Minaya. Atento en todo momento y siempre resolviendo todas las dudas. En cuanto a las condiciones de la hipoteca mejoraron las opciones que me ofrecían desde el propio banco.
Maria Rivero Campo
2022-09-05
Elena ha sido quien nos ha asesorado durante todo el proceso, hemos firmado la hipoteca por nuestra cuenta, es decir, no ha hecho falta la mediación de Gibobs y aun asi Elena nos ha ido guiando todo el proceso. Muchas gracias.
Muchas gracias, por acompañarnos en todo el proceso, por recomendarnos lo mejor para nosotros y por preocuparte de que todo saliera perfecto. Gracias Jorge.
Buena experiencia. Te ahorras ir de banco en banco entregando documentación y perdiendo tiempo. Me llevó todo el proceso Rubén que estuvo pendiente y atento en todo momento, incluso estando él de vacaciones, conseguí una buena hipoteca en estos momentos caóticos en un tiempo relativamente rápido. Lo recomendaría a otras personas
Daniel Garrido
2022-08-31
Muy buen trato y muy buena información
Isaac Nofrerias
2022-08-31
Trato excelente. Han conseguido unas condiciones que a dia de hoy me resultaban imposibles. Además, durante el proceso poder encontrar una persona eficiente y que te responde rápido se agradece mucho. Suerte de Antonio!
Ángeles Fernández
2022-08-30
Guillermina, nos ayudó a buscar una hipoteca adecuada para nosotros. Estamos muy satisfechos con su asesoramiento, amabilidad y profesionalidad en todo el proceso.
A network of professionals at your disposal
We work together with a wide variety of prestigious companies in the financial and real estate sectors, allowing us to offer you a quality service and obtain the best conditions for your financial products.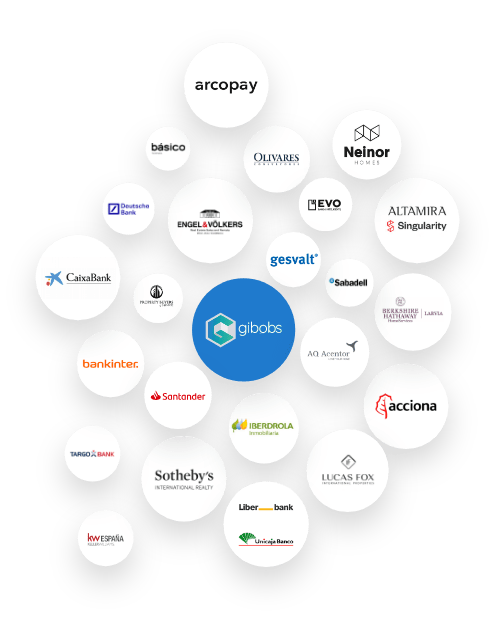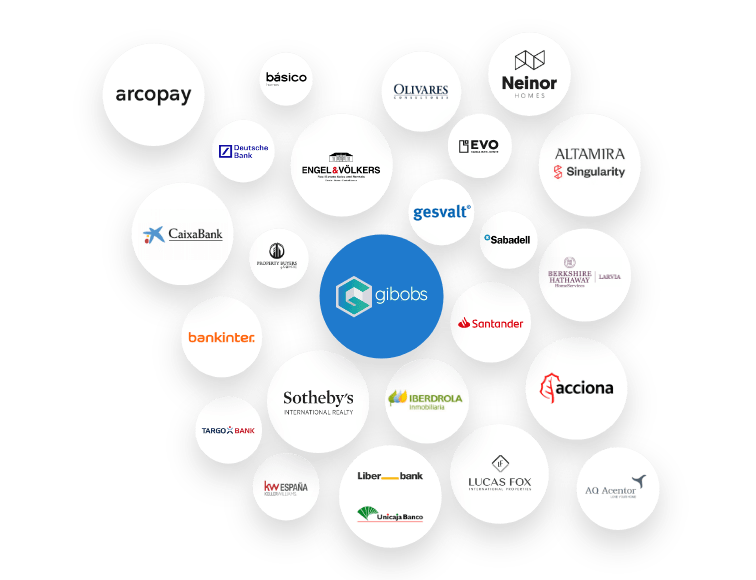 For real estate companies or developers
Do you want your customers to obtain financing in the best conditions so that they can buy the perfect property quickly and securely?