We are the financial choice that suits you
Finance is our strong point. Hence, we have spent years helping customers like you to understand when is the best moment to request a loan, what to do to obtain the best mortgage and much more. Without beating about the bush, without complications, without leaving your home.
Begin to use gibobs
We look after your financial health
Register on our platform free and begin to take control of your financial situation. You have a series of services available to you that will make your life easier and allow you to know which financial decisions to take in line with your personal circumstances. And remember: at gibobs, you decide what services interest you.
My personal balance
My loans
gibobs scoring
My documents
Financial products
My personal balance
Begin to take control of the real updated value of your wealth, solvency and liquidity to take the best financial decisions.
More information
My loans
Easily verify the status of the products you have taken out, compare your conditions with the market average and receive personalised recommendations to improve them.
More information
gibobs scoring
Find out your personal credit scoring, that is, your financial health and check how it is progressing.
More information
My documents
Organise and store all your financial documentation in your client area in a safe confidential manner and access it at any time and anywhere.
More information
Financial products
Whatever your bank, we will help you to find a mortgage that is made to measure. If you already have a mortgage, we will improve your interest rate, but always giving you personalised recommendations to manage your finances. Use our mortgage simulator and discover your mortgage's viability. Furthermore, we will help you find a mortgage that is made to measure, or to improve your interest rate, offering you you personalised recommendations to manage your finances.
More information
We are mortgage experts
One of the aspects that helps to improve your financial health is to find a mortgage that has the best market conditions. And this is what we know how to do best! We have spent years negotiating with banks, but this has only just begun: we have set the objective of helping people like you find the home of their dreams.
You will be happy with your mortgage
Después de probar varias empresas, Gibobs fue la única que me consiguió una hipoteca fija, bastante buena. Además quiero destacar el trato tan excelente que me dio Rodrigo, siempre me devolvió todas las llamadas en cuanto pudo y solucionó todas mis dudas.
La verdad que son un servicio muy bueno. Sin ellos no hubiera conseguido la hipoteca con las condiciones que tengo. Además son muy cercanos y simpáticos. Me llamaron en el mismo día que escribí el formulario. Especial referencia a Juan Yubero, que ha sido quien me ha gestionado la operación. Muy simpático y atento. ¡¡Gracias!!
He recibido un trato excelente del analista Rubén Requena. Tanto en el aspecto personal como en su trato y competencia profesional. Espero en el futuro seguir contando con Vds. con personal así cuando lo necesite. Un saludo. José J. Méndez.
Atención muy buena y personalizada
Excelentes profesionales. El servicio que prestan es genial. Con ellos el proceso es rápido y sencillo y sientes que siempre están a tu lado para ayudarte. Gracias Gibobs.
Gracias a Gibobs me ha ahorrado mucho dinero en mi hipoteca. Juan (el gestor que me atendió) me ayudó a identificar toda la información necesaria para adjuntar en mi solicitud y me explicó muy claramente el proceso para que no tuviera dudas. A partir de ahí, fueron los bancos quienes contactaron conmigo directamente para hacerme ofertas. Y yo solo tuve que quedarme con la que más me interesaba. Lo más sorprendente es que, gestionando la petición a través de Gibobs, mi solicitud llegó a todas las entidades que me interesaba en un solo trámite y he conseguido mejores condiciones que las que ofrecían los bancos de forma directa. Todo ventajas.
Desde el principio fue todo muy facil en apenas 2 dias ya estábamos en contacto con el banco y en una semana tuvimos la primera oferta para la hipoteca. Muy agradecido con Antonio que estuvo constantemente pendiente del tema.
Mario Villacastin
2023-01-12
Profesionalidad, diligencia, trato súper personal y eficiencia en todo momento. El acompañamiento fue constante tanto en asesoría previa a la formalizacion de la hipoteca, estudio previo, presentación de diferentes ofertas y de manera gratuita. Genial idea!!!! Muchas gracias a mi gestor, Juan. Operación cerrada en septiembre.
Aunque no acabé cogiendo la hipoteca a través de ellos porque por mi cuenta conseguí una oferta mejor, la atención de María fue buenísima, atenta y dispuesta a ayudar en todo momento.
Muy bien, muy profesionales
A network of professionals at your disposal
We work together with a wide variety of prestigious companies in the financial and real estate sectors, allowing us to offer you a quality service and obtain the best conditions for your financial products.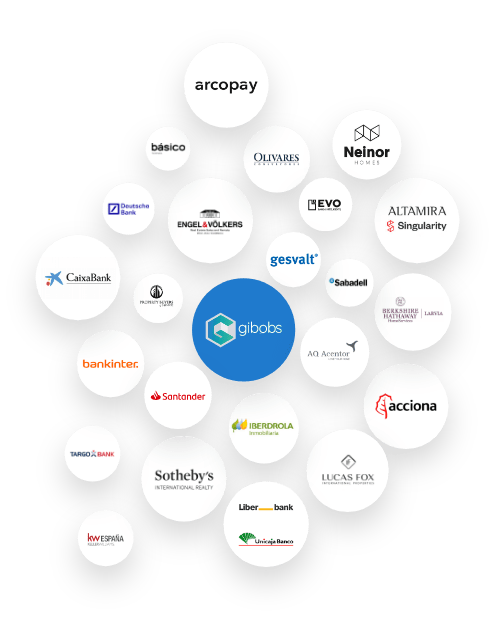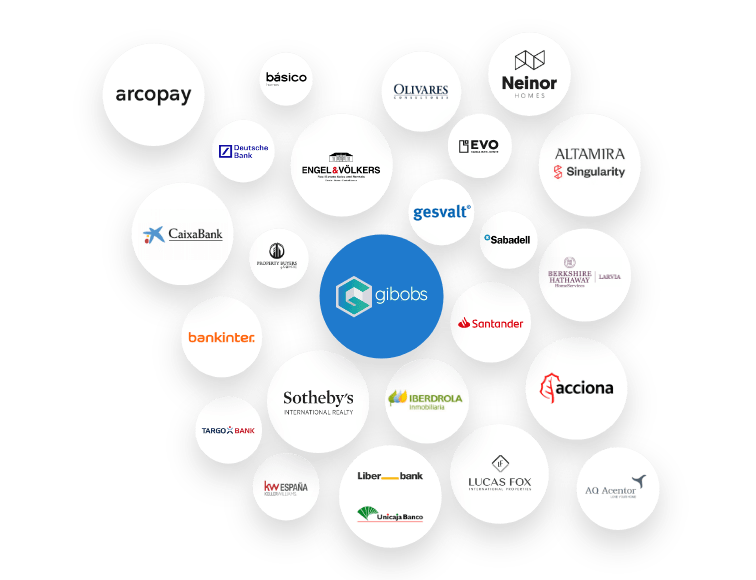 For real estate companies or developers
Do you want your customers to obtain financing in the best conditions so that they can buy the perfect property quickly and securely?