Green mortgage: the mortgage revolution
Did you know that thanks to our collaboration with Iberdrola, you can convert the home that you want to buy into a sustainable home and save on your electricity bill?
We provide you with an innovative financing method that enables you to find a mortgage with the best conditions, including the cost of the installation of solar panels.
Calculate your mortgage
We present you with gibobs ecoestates
Discover all the advantages of converting a home into ecoproperty:
Save money each month in your electricity bill.

We take care of everything: from the installation to assembly, including the materials.

We negotiate for you with the banks to obtain the best market offers.

You will have your mortgage and the solar project in a single financing project.

We study your home to learn about its characteristics and convert it into ecoproperty.

You will be taking care of the environment and reducing CO2 emissions.

We present offers from various banks so that you can choose that which most suits you.

We offer you impartial advice to find a mortgage tailored to your needs.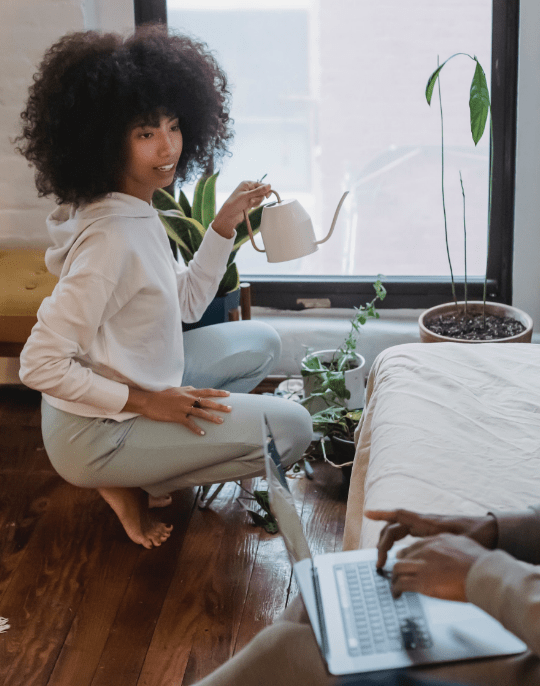 How can I obtain my green mortgage?
No last minute commissions
Start by running a free simulation of your mortgage, in which we will show you an estimate of the interest rates that we could get you. If, after carrying out the simulation of your mortgage, you decide to work with us to offer you a personalized advisory service to help you get those offers, you won´t have to make any kind of payment: neither before nor during nor after the operation.
Más información
We work with the main banks in the country














Have you still not decided to find a mortgage with gibobs?
We are sure that when you read the opinions of our customers you will change your mind.
Valoro tener siempre al gestor disponible, la profesionalidad y la variedad de lo que ofrecéis sin que el cliente tenga que salir de su casa. De hecho, incluso a los clientes que no se han decantado por nuestra promoción, les hemos invitado a seguir en contacto con vosotros.
Victoria Elviro – Comercial de AQ Acentor
Lo que más valoro es la posibilidad de conectar con los distintos bancos, el no desplazamiento, el trato personal y ayudáis a que la relación con el cliente sea más ágil y más rápida, nos facilita mucho el trabajo. Además, siempre estáis disponibles.

Virginia Zulategui – Directora y fundadora de VZ Properties
I love the perseverance, compared to the other brokers they worked hard and never gave up. There is a lack of understanding at times. But they did manage to try and understand that even though the complexity of the situation made it hard. I am happy with the result and it was a very competitive offer.
Dennis Brian Blynov
No soy residente en España y el trato que yo he recibido es casi como de familia. Además, creo que me han ayudado a ahorrar mucho ya que antes había visitado 2 entidades bancarias que me habían ofrecido hipotecas, pero en ningún momento se acercaba a la que me consiguieron ustedes.
Luis Dushant
Lo que más me gustó fue la cercanía con el asesor y que me consiguieron una oferta muy buena en un plazo muy corto. Los recomendaría sin duda. Cuando una se compra su primera vivienda no sabe ni por dónde empezar, tienes un montón de dudas, entonces esto te da una seguridad y te guía.
Claudia Georgia Mihaita
Lo que más me ha gustado del servicio recibido ha sido la comunicación y, sobretodo, que te ahorra muchísima faena. En muy poco tiempo gracias a vosotros contactas con muchas ofertas a la vez, te ahorras muchísimo tiempo y siempre encuentras la mejor alternativa.
Adrián Fernández
El servicio es muy personal y muy directo. Lo que más valoro de trabajar con vosotros es el despliegue de entidades que dais y que os preocupáis por el perfil del cliente y por sacar adelante la operación.
Gonzalo Ochando  – Agente inmobiliario de Keller Williams
Lo que más he valorado es que cuando he necesitado cualquier cosa mi asesor me lo ha solucionado enseguida, sin darme largas. He quedado muy satisfecha por las respuestas a las consultas que hacía y porque se me solucionó el problema que tenía lo más rápido posible.
María de los Remedios Arteseros
La atención al cliente ha sido muy buena, es lo que me trasladan ellos. Lo que más valoro es el tiempo que ahorra nuestro cliente al tener vuestro servicio. Es un servicio integral. Facilitáis el proceso de la decisión de un cliente. Somos un complemento.
Raquel Carretero – Directora territorial zona centro de Básico Homes
La atención recibida me ha parecido perfecta. Lo que más valoro es la implicación en el servicio. Os recomendaría siempre, ya que brinda seguridad al cliente en cuanto al servicio y en cuanto a hacer una transacción más segura.
Verónica Rojas – Agente inmobiliario dependiente Keller Williams
El asesoramiento ha sido perfecto, un 10, tanto en calidad, en saber de lo que hablaban, lo explicaban todo perfecto, todo muy bien. Lo recomendaría, además ya lo he hecho, ya que la asistencia y la eficacia es plausible. He ahorrado en tiempo y dinero, estoy muy contento, no tengo ninguna pega.
Alejandro Pedrero
He recibido un servicio muy personalizado, muy preciso y muy efectivo. Ha sido excelente. Esa atención personalizada no se encuentra en más empresas. Ya lo he recomendado a todos los agentes y ya trabajan casi todos con vosotros.
Monica Blaubach – Agente inmobiliaria de Keller Williams